After stepping off the plane, the traveler shoulders his deep blue duffel bag. He flips the brown cap with a white star sewn onto it, and it lands onto his head. His sunglasses reflect and distort the world around him, keeping the world guessing about his intentions. But he only has one intention this time. He will travel the Eastern Road, and sample what Japan has to offer. He'll find only the best art and souvenirs, and he will see exactly what she saw. This is the path of the traveler, as he heads along Tokaido.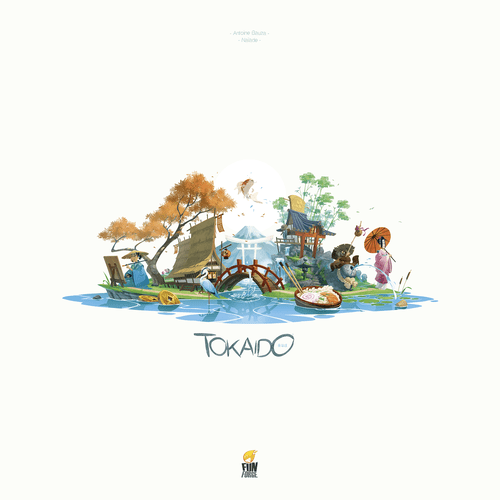 BACKGROUND: Tokaido is a game for 2-5 players and published by Passport Game Studios. Travel along the East Sea Road to meet interesting people and places, find some wonderfully crafted items, and taste what Japan has to offe
GAMEPLAY: Each player starts at the far left in 1 of the 5 squares in a vertical line. The starting player is indicated by whomever at the bottom, as they are "farthest behind". Each player chooses a character from 2 randomly available choices, and collect the coins indicated at the top right.
MOVEMENT: The player farthest behind will be the turn player. Each player may move forward anywhere along the track on the small circular spaces, up to and including the next Inn space, which is indicated by the red line of squares. Players may never share a space, but if is a branching point that is split while playing with 4 or more players, players may move their token to that space, and they are behind the player on the main road.

SCORING: Each space has its own effect. Villages allow you to buy Souvenirs and score points. Farms give you 3 coins. Hot Springs gives you points. Panoramas are like paintings, and give you points and cards to build your image. Temples trade up to 3 coins for points. Encounters give you a card from the Encounter deck and the effect applies. Points are kept track of on the number tracker on the top of the board. Player cards also have an effect they may use when landing on an appropriate space.
INNS: Inns are a special case. Once a player hits an Inn, they cannot move until all players meet up at the Inn. Once a player hits the Inn, they are given a selection of Meals. They may buy a meal to score 6 points, with the last player only able to buy whatever meal is left. Once all players have met up, the farthest player, or the one who was last to the inn, starts their turn.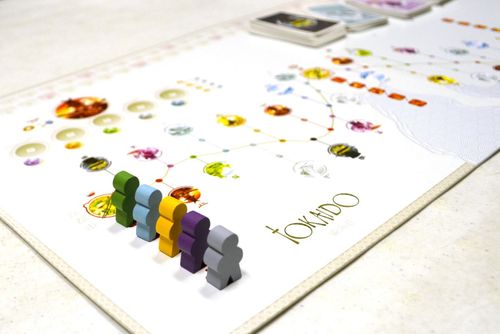 WINNING: The game ends once the last player hits the last Inn and buys or refuses a Meal, if any are left. At the end of the game, any end of game points such as Achievements for most of a certain kind of card, and how much money donated, are tallied and scored, with the player who scored the most points winning.
CONCLUSION: Tokaido is one of those games that is complex to understand when you first hear it,
easy to play once you start understanding it, then goes back to complex once you realize how many ways there are a bevy of ways to approach it to winning. The biggest complaint I may have to put is that it isn't hard to have a player go through three turns in one go, and that can feel irritating. Still, even with that thought out there, I still say this is one road you should travel, and don't forget to treat yourself.